NextPCB promises the product safety with IATF16949, ISO 9001, ISO 14001, UL, RoHS, CQC and REACH certifications

Summary: NextPCB promises the product safety with IATF 16949, ISO 9001, ISO14001, UL, RoHS and REACH Certifications. As a printed circuit board manufacturer with over 15 years industry experience, NextPCB provides you many benefits, including One-stop solution for PCB manufacturing and PCB assembly. Plus, our printed circuit board industry certifications, you can rely on us without worries for all of your quick turn, small quantity PCB and production board needs. We can ensure the quality assurance through the world-renowned basic materials and deliver your products as soon as possible by our date system and efficiently inner collaboration. Check our certifications and then try our Instant Online Quote to get your printed circuit board today.
What is UL?

UL (Underwriters Laboratories) is one of the oldest certifying agencies for product safety that based in Northbrook, Illinois since 1894. As reported by U.S. product safety requirements, UL provides certification on the safety of products as well as their environmental claims, in order that these products could be launched and sold in the market of the USA.

UL Certification shows that a company meets all local and federal safety and environmental regulations. With over 100 years history UL has already been a demonstration of product safety in the eyes of American consumers.
UL certification of NextPCB

All printed circuit boards produced by NextPCB are fabricated using a UL 796 certified process according to HQPCB-1, HQPCB-2. These printed circuit boards can be used into UL approved products.

NextPCB UL identification number is: E469747

Note:We applied UL by our Chinese company name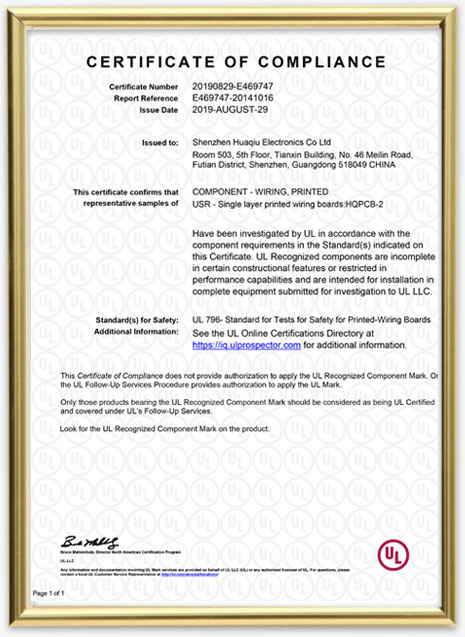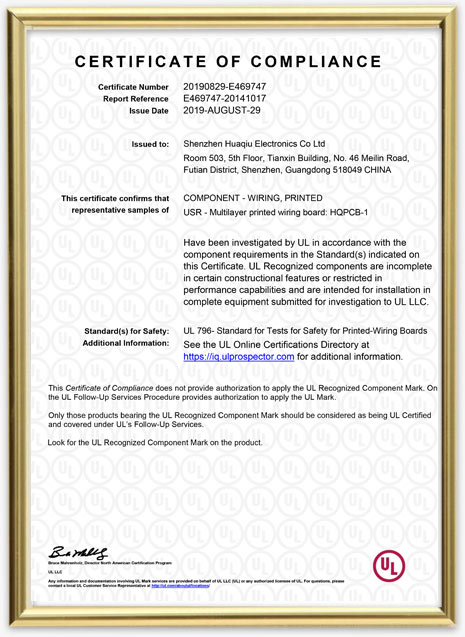 What is ISO 9001:2015?

ISO 9001:2015 Quality Management System (QMS) is internationally recognized as the world's leading quality management standard and has been implemented by over one million organizations in over 170 countries globally. ISO 9001 implemented, to its full potential, becomes an invaluable asset to an organization.

The purpose of the standard is to assist companies in meeting statutory and regulatory requirements relating to their product while achieving excellence in their customer service and delivery. The standard can be used throughout an organization to improve the performance or within a particular site, plant or department.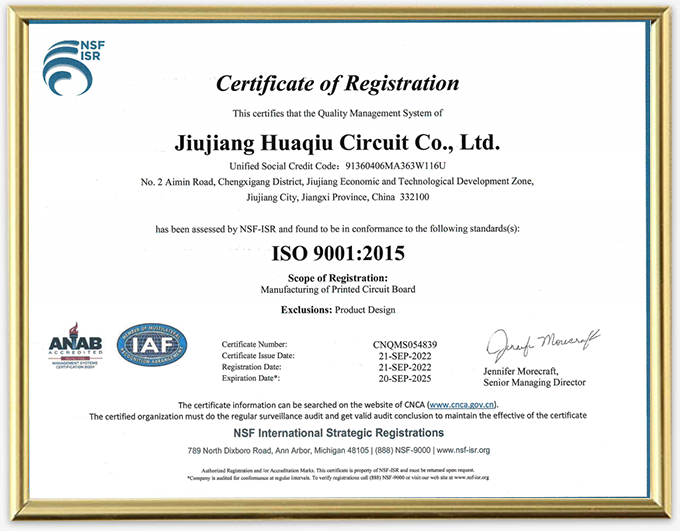 Note: We applied ISO9001:2015 by our company name Shenzhen Huaqiang Jufeng Electronic Technology Co., Ltd
What is ISO 14001: 2015?

ISO 14001:2015 Environmental Management System (EMS) is internationally agreed standard that sets out the requirements for the organizations of all types and sizes. ISO 14001 implemented, the environmental risk of NextPCB is being managed and improved.

The objective of the standard is to provide control for companies' activities, products, or services and interaction with the environment. The standard can be used throughout an organization to ensure that they undertake the social responsibilities of protecting environmental sustainable development.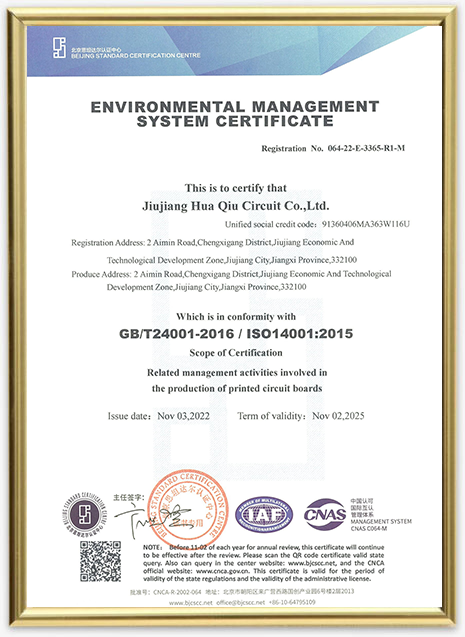 Note: We applied ISO14001:2015 by our company name Jiujiang Hua Qiu Circuit Co., Ltd
What is IATF 16949:2016 ?

IATF 16949:2016 is the International Standard for Automotive Quality Management Systems. IATF 16949 was jointly developed by The International Automotive Task Force (IATF) members and submitted to the International Organization for Standardization (ISO) for approval and publication.

The document is a common automotive quality system requirement based on ISO 9001, and customer specific requirements from the automotive sector.

IATF 16949 emphasizes the development of a process oriented quality management system that provides for continual improvement, defect prevention and reduction of variation and waste in the supply chain. The goal is to meet customer requirements efficiently and effectively.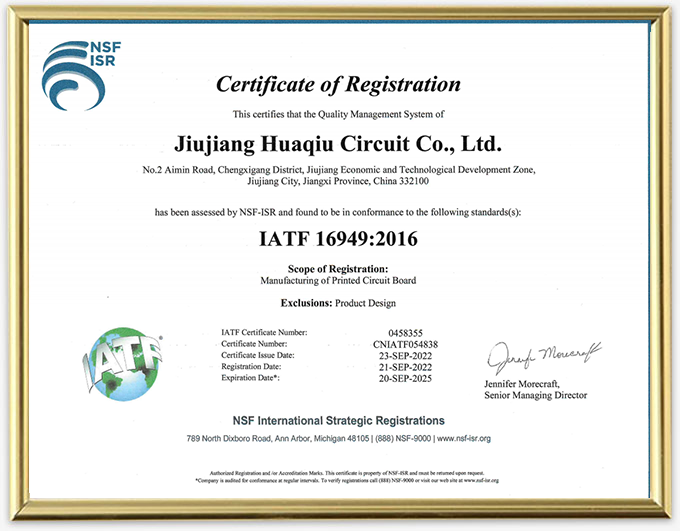 Note: We applied IATF 16949:2016 by our company name Jiujiang Hua Qiu Circuit Co., Ltd
What is REACH?

REACH (REGULATION concerning the Registration, evaluation, Authorization and Restriction of Chemicals) is a chemical regulatory system established by the European Union and implemented on June 1, 2007.

The REACH Directive requires that all chemicals imported and produced in Europe must pass a comprehensive set of procedures such as registration, evaluation, authorization, and restriction to better and simpler identify the chemical composition to achieve the purpose of ensuring environmental and human safety.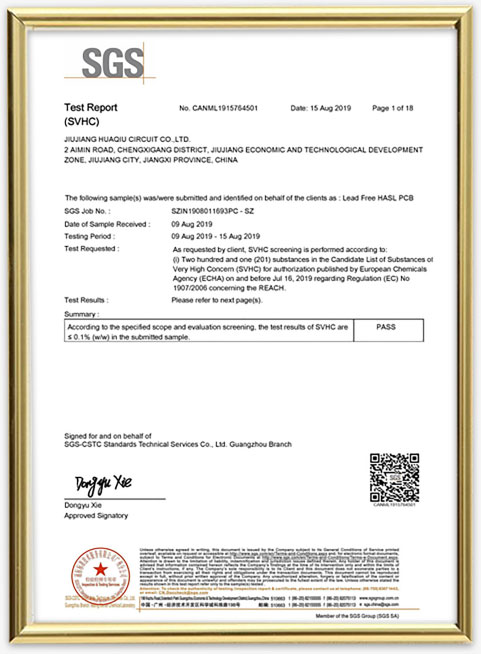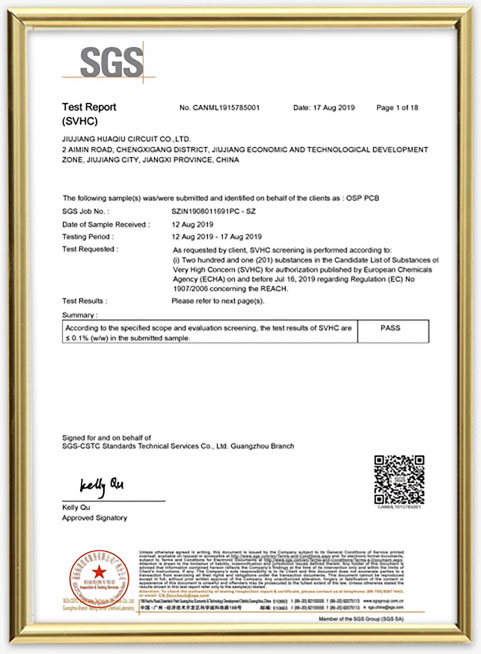 Note: We applied REACH by our Chinese company name — Jiujiang Huaqiu Circuit Co., Ltd
What is RoHS?

RoHS (Restriction of Hazardous Substances), is a mandatory standard established by EU legislation. This standard has been formally implemented since July 1, 2006.

It is mainly used to standardize materials and process standards for electronic and electrical products, making them more conducive to human health and environmental protection. The purpose of this standard is to eliminate six substances in the lead, mercury, cadmium, hexavalent chromium, polybrominated biphenyls and polybrominated diphenyl ethers in electrical and electronic products, and it is specified that the content of cadmium cannot exceed 0.01%.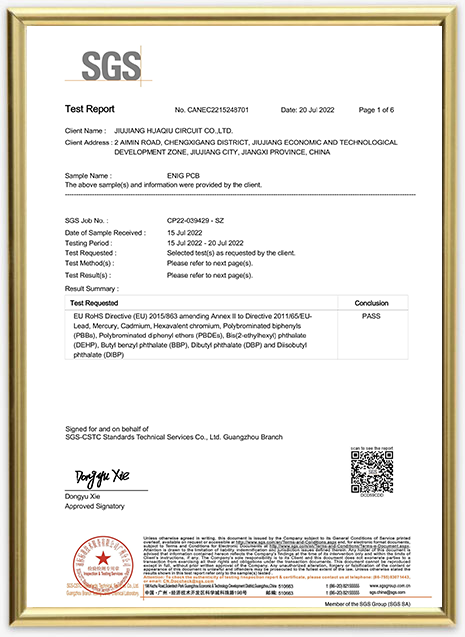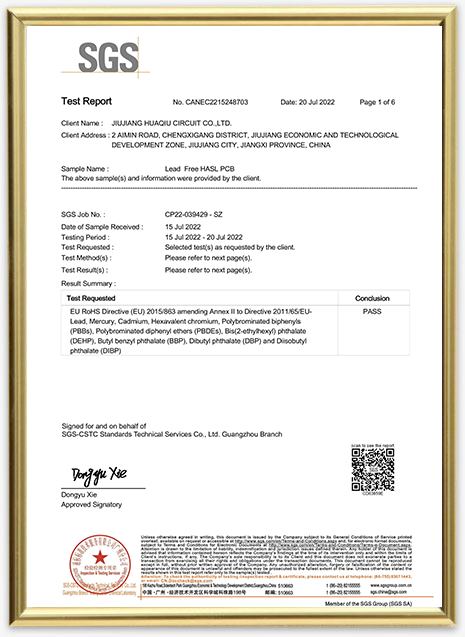 Note: We applied RoHS by our Chinese company name — Jiujiang Huaqiu Circuit Co., Ltd